Happy New Year! At Redemption Housing, we are excited for the prospects that 2017 will bring and look forward to meeting like-minded partners, donors, and volunteers. Together, we concluded 2016 by exceeding our end-of-year goals and are now more than halfway towards our target for recurring donations in support of Barnabas House!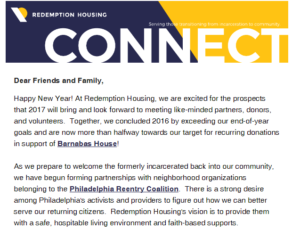 As we prepare to welcome the formerly incarcerated back into our community, we have begun forming partnerships with neighborhood organizations belonging to the Philadelphia Reentry Coalition. There is a strong desire among Philadelphia's activists and providers to figure out how we can better serve our returning citizens. Redemption Housing's vision is to provide them with a safe, hospitable living environment and faith-based supports.
Today, there are a few ways that you can help us achieve this vision:
Arrange for

Redemption

Housing

to present to
members of your church (in your home, during Sunday School, or during a 10 minute "mission moment" during worship service).
Share our progress with your friends and family by forwarding the November newsletter.
Advocate for donations from your church's annual budget.
Commit to joining us by becoming a regular supporter in the amount of $40/month.
Thank you for your support as we continue on this journey and prepare ourselves to aid men in their transition from incarceration to community!
Grace and Peace,


Nick Lordi, President of the Board