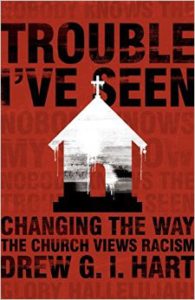 Halfway through the first Chapter in Drew G. I. Hart's new book Trouble I've Seen: Changing the Way the Church Views Racism, the author offers a list of well-publicized events that "expose the deep racial divisions that exist in our country." Rodney King, beaten by police in 1991. Oscar Grant, shot in the back and killed by police in 2009. Jordan Davis, shot and killed by Michael Dunn after an argument about loud music. Eric Garner, choked to death by police in 2014. Walter Scott, shot in the back and killed by police in 2015. The list goes on for two and a half pages. As one of the sub-headings in this first chapter states, it is time to wake up. Hart's book offers a glimpse at the pervasive nature of racism in America and reveals through personal testimony and historical data that the church has not been exempt. In fact, Hart shows readers that there have been periods in our shared history when the church has indeed led the way in forming a white dominant culture.
This is not exactly easy to accept. But Hart's determination in honestly reflecting racism in the church is compelling. He encourages readers to "leave behind the whitened Jesus." He rejects the image of Christ as a fair-skinned, blue-eyed, cultural elite conjured by American slave owners in order to justify oppression and instead rightly frames Christ as a poor Jewish man living as part of "an oppressed minority." Hart presents the "subversive" Jesus of the Gospels, who defied the dominant culture and paid for it with his life. And it is this Jesus that Hart continuously re-directs his readers to when discussing the racial hierarchy of our time.
Hart goes on to break down America's socialization of race, describing a culture that has been defined by the experience of being white as opposed to reflecting the experience of those who have been marginalized. He tackles the problem of "nice white people" who seek to help others without first realizing their own participation in a racialized society or possessing an understanding that the black perspective is not their own. Hart addresses historical black stereotypes that perpetuate racism and reveal our expectations as a white dominant culture. All the while Hart encourages readers to "renounce racial hierarchy" and embrace the oppressed Christ as an example of how to live with marginalized people.
According to statistics provided by the NAACP there are approximately 2.3 billion Americans in prison and roughly 1 million of them are African American. As the NAACP's Criminal Justice Fact Sheet states, African Americans are incarcerated at nearly six times the rate of whites. If we are going to engage in a ministry with returning citizens, such as Redemption Housing, then we must acknowledge this disparity and prepare to provide culturally competent services. Doing so will require us to "learn about the development of race and white identity in America," as Hart urges. That means white folks who wish to be allies with returning citizens must first increase their awareness of white dominant culture and the ways in which we are participants. This takes courage and, as Hart states, it will require us to come to terms with "white guilt" and "white fragility." I suggest that reading Hart's book is a good place to start this transformative work.
---
Robert Kuehl is a psychotherapist who works with adults, children and adolescents in an outpatient setting. He is a graduate of Temple University (BA, Broadcasting, Telecommunications and Mass Media, 2004) and Eastern University (MA, Clinical Counseling, 2014). He attends West Philadelphia Mennonite Fellowship with his family where he seeks to bring issues of race and mass incarceration to the greater consciousness of the congregation.